Research
Laboratory in Medical Plants Garden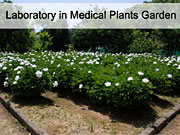 Course of Pharmaceutical Sciences
http://www.ph.nagasaki-u.ac.jp/lab/plant/index-e.html
Teaching staffs
Name, Position
Email
*convert [a] to @
Tel
Fax
Koyo Nishida, Ph. D. Professor

koyo-n[a]nagasaki-u.ac.jp
+81-95-819-8566
+81-95-819-8566
Koji Yamada, Ph. D. Associate Professor
kyamada[a]nagasaki-u.ac.jp
+81-95-819-2462
+81-95-819-2462
Research interests
Studies on differentiation and substance production of plant tissue.
Studies on breeding and strain preservation of medicinal plants and functions of secondary metabolites
Chemo-pharmaceutical studies on biologicaqll active components derived from African medicinal plants.
Chemo-pharmaceutical studies on marine microbial products and bioactive components derived from marine invertebrates.
Construction of an extract library derived from natural resources as a drug discovery resource.
Selected publications
Riho Kurata , Kenji Shimizu, Xiaofeng Cui, Masamitsu Harada, Takayuki Isagawa, Hiroaki Semba,Jun Ishihara, Koji Yamada, Jun Nagai, Yasuhiro Yoshida, Norihiko Takeda, Koji, Maemura,Tomo Yonezawa: Novel Reporter SystemMonitoring IL-18 Specific Signaling Can Be Applied toHigh-Throughput Screening, Marine drugs, 18(2020), 60–71, 2020.
Nagat Ghareba, Norhan M. El-Sayedc, Reda Abdelhameedd, Yamada K, Mohamed Saleh Elgawishe: Toward a treatment of diabesity: Rational design, synthesis and biological evaluation of benzene-sulfonamide derivatives as a new class of PTP-1B inhibitors, Bioorganic Chemistry 86 (2019) 322–338, 2019.
Reda F. A. Abdelhameed, Sameh S. Elhady, Ahmad O. Noor, Diena M. Almasri, Alaa A. Bagalagel, Galal T. Maatooq, Amgad I. M. Khedr and Yamada K: Production of a New Cyclic Depsipeptide by the Culture Broth of Staphylococcus sp. Isolated from Corallina ocinalis L., Metabolites, 2019, 9, 273–281, 2019.

Mohamed S. Refaey, Reda A. Abdelhamid, Mohamed A. A. Orabi, Ahmmed A. Ali, Reda Fouad Ahmed Abdelhameed, Eman A. A. Mousa, Shinjiro Hamano, and Yamada K: Anew Iridodi Glucoside from Anisacanthus virgularis and Its Antiamoebic Activity, Heterocycles, 98 (9), 1229–1235, 2019.

Rania El-Shaheny, Mohamed Radwan, Yamada K and Mahmoud El-Maghrabey: Estimation of nizatidine gastric nitrosatability andproduct toxicity via an integrated approachcombining HILIC, in silico toxicology, andmolecular docking, Journal of Food and Drug Analysis, 27(4), 915–925, 2019.
Works
Please find latest works in their website.