Research
Department of Analytical Chemistry for Pharmaceuticals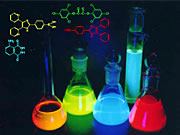 Course of Pharmaceutical Sciences
http://www.ph.nagasaki-u.ac.jp/lab/analysis/index-e.html
Teaching staffs
Name, Position
Email
*convert [a] to @
Tel
Fax
Naotaka Kuroda, Ph. D.
Professor
n-kuro[a]nagasaki-u.ac.jp




Naoya Kishikawa, Ph. D.
Associate Professor
kishika[a]nagasaki-u.ac.jp




Mahmoud Elmaghrabey, Ph. D.
Assistant Professor

mh-elmaghrabey

[a]nagasaki-u.ac.jp





Research interests
Development of sensitive analytical method for trace levels of biological substances and drugs and its application to clinical chemistry.
Development of organic reagent for fluorescence/chemiluminescence analysis.
Development of unique chemiluminescence reaction and its application to clinical, environmental and food analysis.
Development of novel silica gel column packing materials for HPLC and CEC.
Development and application of specific detection method for reactive oxygen species and antioxidants.
Selected publications
El-Maghrabey MH, Kishikawa N, Kamimura S, Ohyama K, Kuroda N: Design of a dual functionalized chemiluminescence ultrasensitive probe for quinones based on their redox cycle. Application to the determination of doxorubicin in lyophilized powder and human serum. Sensors and Actuators B: Chemical 329: 129226, 2021
El-Maghrabey MH, Kishikawa N, Harada S, Ohyama K, Kuroda N: Quinone-based antibody labeling reagent for enzyme-free chemiluminescent immunoassays. Application to avidin and biotinylated anti-rabbit IgG labeling. Biosensors and Bioelectronics 160: 112215, 2020.
Kishikawa N, El-Maghrabey MH, Nagamune Y, Nagai K, Ohyama K, Kuroda N: A smart advanced chemiluminescence-sensing platform for determination and imaging of the tissue distribution of natural antioxidants. Analytical Chemistry, accepted 92: 6984-6992, 2020.
Ali MFB, Kishikawa N, Kuroda N: Development of HPLC method for estimation of glyoxylic acid after pre-column fluorescence derivatization approach based on thiazine derivative formation: A new application in healthy and cardiovascular patients' sera. Journal of Chromatography B 1143: 122054, 2020.

El-Maghrabey MH, Kishikawa N, Kuroda N: Novel isotope-coded derivatization method for aldehydes using 14N/15N-ammonium acetate and 9,10-phenanthrenequinone. Analytical Chemistry 90: 13867-13875, 2018.
Works
Please find latest works in their website.