Amyloid hypothesis that Alzheimer's disease starts from deposition of amyloid-ƒΐ peptide (Aƒΐ) in the brain is widely accepted (Fig. 1). Aƒΐ deposites outside neurons and then accumulation of hyperphosphorylated tau aggregates inside neurons occurs, leading to neurodegeneration and neuronal cell death, finally, which cause cognitive impairment and thus Alzheimer's disease.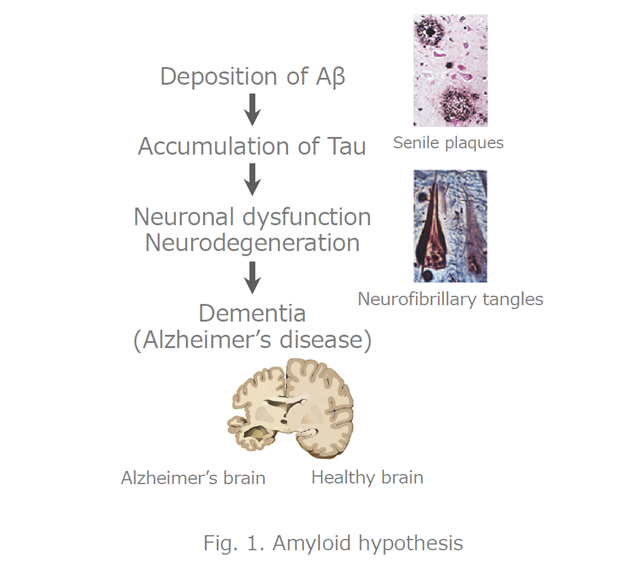 Aƒΐ is generated by sequential proteolytic cleavages of amyloid precursor protein (APP) by ƒΐ- and ƒΑ-secretases. On the other hand, ƒΏ-secrerase also participates in metabolism of APP, but in this case Aƒΐ is not produced. It is important for treatment of Alzheimer's disease to reduce Aƒΐ levels in the brain. Therefore, as shown in Fig. 2, inhibition of production, promotion of degradation, inhibition of deposition of Aƒΐ and dissolution of Aƒΐ which already deposited in the brain would be promising molecular targets of treatment of Alzheimer's disease.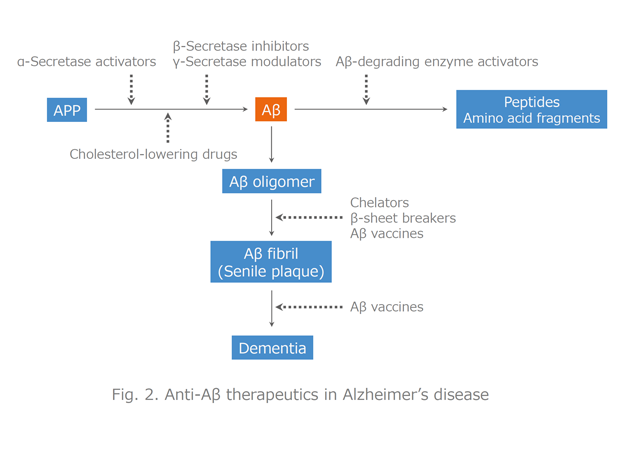 We study an avenue to enhance activity of neprilysin in the brain, a major Aƒΐ-degrading enzyme, using a novel viral vector system that drives a brain-specific gene expression by intravenous administration, and to reduce brain Aƒΐ and alleviate cognitive dysfunction in Alzheimer's disease-model mice.
We can observe excessively enhanced inflammatory responses in the brains of Alzheimer's patients. We study a possible role of neprilysin in the inflammatory responses using a mouse model of Alzheimer's disease
Regulation of secretase and neprilysin activity involves the development of Alzheimer's disease. We search for compounds that influence their expression and activity from libraries of natural products and drugs are already used in clinical, and analyze the regulatory mechanisms by them.
The most common form of Down syndrome is an extra copy of chromosome 21 (also known as Trisomy 21). By age 40 years, there is a ubiquitous occurrence of amyloid plaques and neurofibrillary tangles, which are pathological features in Alzheimer's disease brains, in Down syndrome patients' brains, because location of the APP gene coded the precursor protein of Aƒΐ on chromosome 21. We analyze possible functions and interactions of genes, especially on chromosome 21, related to Alzheimer's disease or Down syndrome.
Alzheimer's disease progresses over a long period of time (over 20 years), resulting in cognitive impairment. Therefore, it is necessary to make a diagnosis and cure as early as possible. We search biomarkers in blood and cerebrospinal fluid to diagnose Alzheimer's disease.
We analyze the detailed pathogenic mechanism of Alzheimer's disease using the patients-derived iPS cells, and plan to apply the patient-specific iPS-derived neurons to drug screening for Akzheimer's disease treatment. We also address to develop a efficient purification method of neurons differentiated from iPS cells.
Loss-of-function of PRRT2 causes various neurological disorders such as paroxysmal kinesigenic dyskinesia (PKD), benign familial neonatal/infantile convulsions (BFNIC) and hemiplegic migraine (HM), suggesting that PRRT2 plays important roles in synaptic function and regulation. Currently, we are analyzing functions of PRRT2 to clarify molecular mechanism of the disorders and construct the basis of the disease-modifying therapy, and to develop comprehensive understandings of synaptic mechanisms.